10th Central European Quantum Information Processing Workshop
5-9 June 2013, Valtice, Czech Republic
QUANTUM CIPHER GAME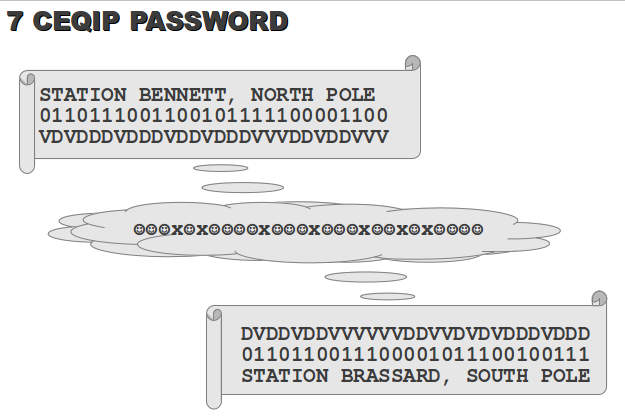 A game in which groups composed of 3-5 (wo)men are solving riddles and ciphers in order to find the secret CEQIP password. The solution of each cipher points to the position of the next cipher (so expect also a short walk in dark night). Participants will be provided with all the necessary equipment and details before, or during the game.

The SECURITY of CEQIP password was the solution the puzzle on the right.

Below is the list of participating teams and their performance.

Congratulations to members of the winning team of WINNERS. And thanks all for enjoying the game.


WINNERS
PERKELE
PERJANTAI
DimWits
---
Who CARES?
POLISH TEAM
TEAM
Wet Matej
Forgotten Nico
Dreadful Pauli
Shiny Stefan
Acapella Gonzalo
Mark
Daniel
Tommy
Lea
Lidia
Erkka
Sergej
Šimon
Marika
Daniel
Martin Plesch
Ryszard Weinar
Martina Miková
Miloslav Dušek
Marcin Pawlowski
Przemyslaw Sadowski
Lukasz Pawela
Dariusz Kurzyk
Laszlo Ruppert
Margherita Zuppardo
Gábor Balló
Dániel Virosztek
xxx
Ian Glendining
David W. Lyons
22:25
22:35
22:44
22:58
23:00
23:13
??:??
??:??
© ceqip.eu